Crisis in Nigeria
For many years there have been tensions and violence in northeastern Nigeria. Currently the extremist group Boko Haram is advancing through the region, taking over entire towns and villages, kidnapping children (including the Chibok girls), killing people, and destroying buildings, including churches.
Both Christians and Muslims have been driven from their homes or killed. This includes many members of the Church of the Brethren in Nigeria (EYN). It is a complex and increasingly violent situation with a terrorist group whose goal is to kill all who try to prevent them from creating an Islamic state with Sharia law.
The situation attracted worldwide attention in April 2014 with the kidnapping of over 200 girls from a Chibok school. #Bringbackourgirls is still relevant as 219 girls still remain captives.
Crisis facts (as of 10/1/2015)
More than 1350 women and children kidnapped, many of whom are EYN members
Over 10,000 EYN members killed
Around three million people affected
100 EYN pastors are still displaced and many congregations struggling to pay their pastors
1,668 Churches and church branches burned or abandoned
Up to 50% of homes and businesses have been destroyed
Food shortages continue as planting and harvesting were severely curtailed this year
50% of the displaced are moving back to their home area with the exception of the Nigeria/Cameroon border area which continues to be very unsafe
Kulp Bible College, Comprehensive Secondary School and many Federal Schools in the area have resumed classes
Nigeria News
Children's Disaster Services presents new training program in Nigeria
(April 29, 2016)
Along with Paul Fry-Miller, John Kinsel, and Josh Kinsel (John's son), I returned this week from a trip to Nigeria. While John Kinsel and I presented a new training program on trauma healing for children, on behalf of Children's Disaster Services, Paul Fry-Miller and Norm Waggy presented medical training to 16 community health workers.
---
Majalisa of the Nigerian Brethren focuses on 'Building EYN for Better Future'
(April 22, 2016)
Ekklesiyar Yan'uwa a Nigeria (EYN, the Church of the Brethren in Nigeria) held its 69th General Church Council (Majalisa) from April 12-16 at the Annex Headquarters in Jos, Nigeria. The Majalisa issued a communique noting official actions of the conference, including the naming of new top leadership for the denomination.
---
Still no definitive answers: What Brethren should know on this second anniversary of the Chibok abductions
(April 13, 2016)
On April 14, 2014, 276 schoolgirls were abducted from a secondary school in Chibok, in northeast Nigeria. Since the night the girls were taken some 56 have escaped and one reportedly was executed in a vicious stoning incident. That leaves 219 of the girls unaccounted for and, at last report, no one has any concrete information concerning their whereabouts.
---
Live your life in the hand of God: An interview with Rebecca Dali
(April 13, 2016)
The following is excerpted from an interview with Rebecca Dali made during last year's Church of the Brethren Annual Conference in July 2015. It was shortly after she had been able to go back home to Michika for the first time since Boko Haram had taken over the area, and then had been forced back out by the Nigerian military. Dali heads up CCEPI, a humanitarian nonprofit serving widows, orphans, and others affected by violence. Now there is significantly less violence than last summer, but Dali's comments give insight into the suffering of many in Ekklesiyar Yan'uwa a Nigeria (EYN, the Church of the Brethren in Nigeria) and their Christian and Muslim neighbors. She shares about the spiritual foundations of her work, and helps explain how young Nigerian men are enticed into joining Boko Haram:
---
Response to the crisis
A bold plan is providing a comprehensive crisis response in Nigeria while supporting and partnering with the Church of the Brethren (EYN) there in five areas: Food & Supplies; Land purchase and building of care centers; Trauma & Reconciliation Workshops; EYN Church Strengthening; along with Education & Livelihoods
By focusing on building response capacity and supporting EYN, the plan provides far reaching sustainability into the many activities. In addition we are partnering with five Nigerian Non-Government Organizations to provide specialized assistance. Christian Aid Ministries in the United States and Mission 21 join Church of the Brethren in providing funding for this huge response.
Current and Ongoing Relief Activities
Thousands are receiving food, blankets, and household supplies – over 60 food distributions
Land for Care Centers (IDP Camps) has been purchased and 142 structures built
Trauma healing workshops are being held in many of the areas with displaced families – over 20 workshops
Temporary EYN Headquarters are furnished and occupied
Thousands have received medical care
A special interfaith relocation project is building homes for 100 families (800 people). The project includes bore holes, community space, worship centers for both faiths and is located near farmland
A warehouse and two trucks have been purchased by EYN to support relief efforts
Over 1000 households have received the gift of a small business
Over 1000 children (out of school for over one year) are attending classes again
Advocacy with the US State Department and US Embassy
Nigeria blog posts
These funds raised and allocated to the Nigeria Crisis Fund are helping to meet the budget for 2015-2016.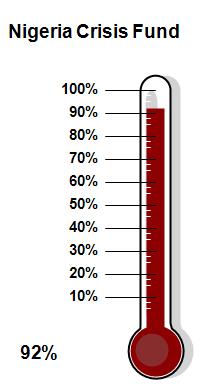 $1.5 million: Church of the Brethren funds allocated by the Mission and Ministry Board
Over $2 million: Donations to the Nigeria Crisis Fund
Nigeria videos
Click for Nigeria playlist
Nigeria photos
Click for Nigeria crisis relief photos
Chibok Girls kidnapped (April 2014)
273 girls taken by Boko Haram, most of them from the EYN (Church of the Brethren), taken from a school built by the Church. At last report 54 Chibok girls have escaped and are being supported by families around the world. Returning to school anywhere is scary as the girls and their families fear revenge from Boko Haram. As the escaped Chibok girls return to school and society, one of them reported, "Education gives me the wings I need to fly." Please continue to pray for the remaining 219 girls.